Kokosnussblüten-Nektar
Kochen
Our coconut blossom nectar is not refined , mixed with other substances ( such as sugar water or the like ) or prolonged in any form or gepantscht. It is from the natural nectar of the coconut blossom and is harvested in the rainforest on the island of Borneo (Malaysia).
The nectar is made from the purest raw material of coconut blossom and from the best suppliers. In order to obtain a tasty seductive sweetener, which is full of nutrients, minerals and an excellent taste, it is gently simmered. The result is of previously unattainable quality, the finest aroma and delicious enjoyment.
Coconut blossom nectar is a healthier and tastier alternative to white, refined, conventional table sugar. Replacing the white table sugar with coconut blossom nectar also means minimizing the chain reactions of sugar enjoyment: in other words, you will not be hungry while enjoying coconut blossom nectar. It can be used to sweeten all food, drinks, baked goods (1: 1 to sugar).
Our coconut blossom nectar is a soothing, natural sweetener that even contains  key vitamins  ( called  key vitamins ) and  minerals  including  zinc, iron  and  vitamins B1, B2, B3,  and  B6 . Just the  important B-vitamins are  completely lost when refining  ( for example  , white white sugar ) !!
Try our coconut blossom nectar in your coffee or tea instead of sugar. Pour it over desserts, mix it in salad dressings, marinades or use it in cakes, biscuits and curries.
Coconut blossom nectar is rich in minerals , vitamins and amino acids . Our product even contains 16 different amino acids . Glutamine is the amino acid with the highest content in our product. The nectar has a very low glycemic index (GI), which is at 36 ( honey has 60, depending on the variety ). This prevents sudden, sharp fluctuations in blood sugar levels due to the consumption of sugar. Compared to brown sugar, which is usually plain cane sugar ( or worse: colored white sugar ).
Compared to brown sugar, our coconut blossom nectar contains 30 times the amount of phosphorus, 18 times more potassium, and more than 10 times the amount of zinc. Low GI foods are important in reducing sudden insulin production, especially for people with diabetes mellitus (type 2).
Try coconut blossom nectar over waffles, pancakes, cream caramel or ice cream.
Now also available in tasting glass (55 g)!
Coconut blossom nectar to order!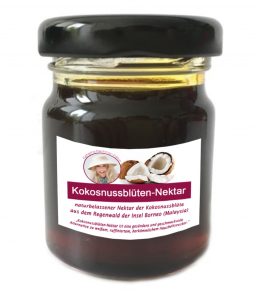 Content
bottle: 325 ml coconut
blossom nectar Sample glass: 55 g
Use
As a natural sweetener in coffee, tea, salad dressings, desserts, sauces, marinades, cakes, biscuits, to conjure sweet taste in your dishes.
Storage
Store cool after opening.
D he is coconut blossom sugar and -Nektar, due to its high content safe even far beyond the MHD of sugar (expiry date) available.
Nutrition information
Energy: kcal / 100 g (306)
Total fat: g / 100 g (0.4)
Carbohydrates: g / 100 g (74.8)
Protein: g / 100 g (0.7)
Liken Sie unsere Facebook-Seite "SOS – Schlank ohne Sport" und wir informieren Sie aktuell über alle Neuigkeiten.
Treten Sie unserer Facebook-Gruppe "SOS – Schlank ohne Sport" bei und tauschen Sie sich aus.